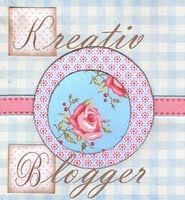 I am so excited to have been given the "Kreativ Blogger" award. Thank you to Sheri Bush of Family Twigs for visiting my blog and giving this award to me. Family Twigs can be found at:
The winner of this award is asked to list seven things about themselves and then pass the award along to seven other bloggers.
Here are somethings you probably don't know about me:
1. My family is the most important thing in my life.
2. I am probably too sentimental and tender-hearted.
3. Our four year old daughter is my pride and joy. She is so interested in family history and always asks me to tell her "old stories about our family."
4. I love Georgia football, Atlanta Braves baseball and hate to mop.
5. I would give most anything to spend some time with my ancestors and have time to really get to know each of them.
6. My favorite quote is "Most famous people aren't great and most great people aren't famous."
7. I love everything about living in the South and couldn't imagine ever living anywhere else.
It is so difficult to limit my picks to 7 other blogs but here are my choices for "Kreativ Blogger" (in no particular order). Please visit these great blogs when you can.
The Educated Genealogist
http://sherifenley.blogspot.com/
The Dead Librarian
http://thedeadlibrarian.blogspot.com/
100 Years in America
http://100inamerica.blogspot.com/
We Tree
http://wetree.blogspot.com/
Lost Family Treasures
http://lostmementos.blogspot.com/
Old Photos & Genealogy
http://oldphotosblog.blogspot.com/
The Armchair Genealogist
http://www.thearmchairgenealogist.com/
Of course another blog I love is my other blog called "My Papa's Book," but I would never nominate myself! :) Please check it out if you have a chance:
http://mypapasbook.blogspot.com/