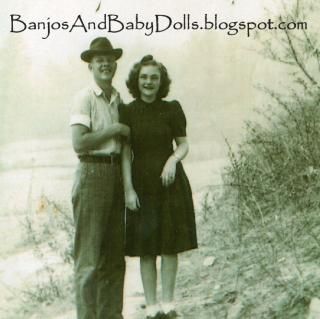 When I started my first genealogy blog "My Papa's Book," I never imagined how much I would enjoy writing and how many other researchers would contact me about my research. I've noticed it gets a little confusing for my family to have both sides of my family combined in one big blog- so I will keep "My Papa's Book" for my mother's Chandler line. I have started a new blog for the Ellenburg side of the family.
What should I call the blog about my father's side of the family? I tried to call it "with all my heart" because that's what my grandmother would say to me every time she told me she loved me but that name was already taken. I thought about my favorite memories of my grandparents and had a hard time narrowing it down to just a few. The same words kept popping in my mind as possible names.
The first word was "banjo" because I can't see a banjo today without thinking of Grandpapa. I'm sure he never had any idea that the times he played his banjo for me would make such an impression.
When I think of my grandmother I always remember the quilts she made for me and my sisters and later for my daughter. I still can taste her perfect biscuits and continue to try to make them myself- they are close but still not as good as her biscuits. One of my favorite memories of Grandmimi was when my sisters and I went to spend a few days with her and she taught us how to make baby dolls. We stayed up so late making those three babies and I cherish both the doll and the memories. Hence the name "Banjos and Baby Dolls." I think it's time to teach my baby girl how to sew her own baby doll.