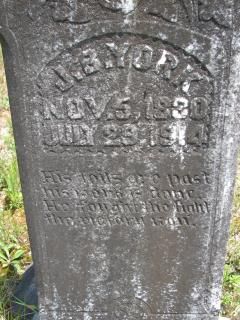 Joseph B. York was born 5 November 1830. He was the son of Margaret and Jeremiah York and he grew up in the Persimmon area of Rabun County, Georgia.
Joseph served in the Confederacy with Company E of the 24th Regiment of Georgia Volunteer Infantry. He died on 29 July 1914. He and both his wives are buried at Persimmon Baptist Church Cemetery in Persimmon, Rabun County, GA.
His daughter Adeline York is my great-great-grandmother.